February 7th, 2018 by admin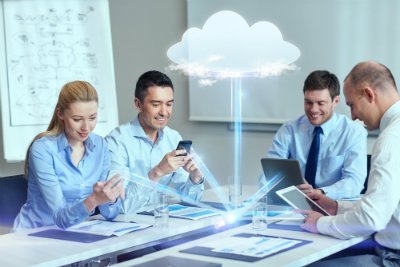 While most people have heard of the Cloud and know that it has to do with off-site data storage, many people still don't realize that the benefits of using cloud computing extend to how your team collaborates. If you're struggling to communicate with colleagues when they're not at their desk and home office is more trouble than it's worth, then you should consider switching to a unified communication (UC) solution based in the cloud.
Together with our partners at Mitel, we offer the flexible MiCloud Business and Enterprise systems for businesses looking to enhance mobility and improve internal collaboration. With these solutions, voice and data systems are hosted through Mitel's secure data centers and run over your internet connection using Voice over IP (VoIP) technology. In the event of a natural disaster, broken device, or cyber-attack, you can still call up your data over the cloud network and have calls automatically forwarded to keep business up and running no matter what.
In addition to the disaster recovery aspect, you'll find it easy to integrate your new voice system with existing applications such as your emails, customer relationship management (CRM) programs, and messaging software. This lets you take your work wherever you go! Access all your calls and messages from outside the office, while pulling up a virtual version of your desktop to continue working where you left off. We can even set up your system for easy point-to-point video conferencing, connecting webcams from participants around the world for simple and enjoyable communication. Our goal is to give your team the mobility they need in a modern workplace.
With Joy Communications as your IT partner, your business will have all the best collaboration tools for getting work done quickly and efficiently. Learn more…
Posted in: Communications, Solutions